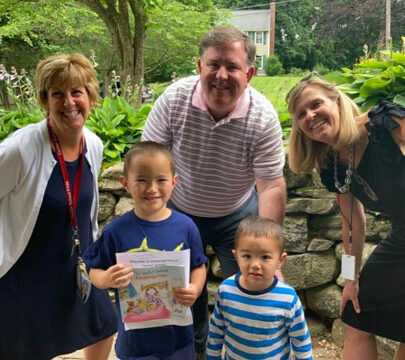 Center Elementary Book Delivery Brings Sense of Welcoming to Incoming Kindergarten Students
in Newsletters
CHELMSFORD, MA (Aug. 9, 2021) – The first day of kindergarten might be a little overwhelming or cause for anxiety for any five or six-year-old. For those attending Chelmsford's Center Elementary School, it's likely a little less so thanks to its principal Dianna Fulreader.
About to enter her fifth year at Center Elementary, Ms. Fulreader, along with Assistant Principal Donna Omobono, is in the process of personally delivering between 80-100 copies of The Night Before Kindergarten by Natasha Wing to the homes of incoming Center Elementary kindergarten students.
It's a huge undertaking, occupying a large part of her summer, but Ms. Fulreader said it's the best use of her time in the down months.
"It's a meaningful way to connect with families, to get to know our kids and make them feel welcome before they come to school," she said "I love seeing the smile on their faces, the look of surprise and joy. Then the first day of school comes and they already know our names because we've been to their homes."
The Center School Parent-Teach Organization (PTO) purchases the books for the Center Elementary students, which include a welcome letter from Ms. Fulreader and Ms. Omobono; the dates for the August Read-Aloud events, and information for parents to get involved with the PTO. "We do see the families that we've visited (at the read-aloud events)," Ms. Fulreader noted. "They make a point of attending."
Ms. Fulreader carried the idea with her from her four previous years as an assistant principal in the Groton-Dunstable school system. Formerly a social worker for the Massachusetts Department of Children and Families, home visits were part of her routine.
Oftentimes Ms. Fulreader and Ms. Omobono will bring a guest or two: a Center Elementary teacher, custodian, administration staffer or a school committee member. Even Superintendent Jay Lang and Assistant Superintendent Linda Hirsch have joined them.
"Anyone who comes with us really enjoys it," Ms. Fulreader said. "And the kids certainly love it and the parents as well. We often get invited in for tea and beverages, but we usually decline since we have more homes to visit. People are really welcoming and hospitable. We get tons of emails thanking us for the visit. From just the engagement from the families, they get involved faster. That connection you make from the get-go is ideal.
"We'll do five or six houses. If it's a nice day maybe we'll do more than that," she added. "It's very casual. When we have a couple of hours, we just go out and surprise people. We've been doing it for three years, so it's a tradition now."
School begins on Wednesday, Aug. 31 for Chelmsford students in grades kindergarten through nine, and Thursday, Sept. 1 for sophomores through seniors.
About Chelmsford Public Schools
The Chelmsford Public School District provides all students with multiple pathways to optimize their own potential for academic excellence, leadership, and social and emotional wellness. The mission of the Chelmsford Public Schools is to educate, engage, prepare, and empower well-rounded and knowledgeable learners to PERSEVERE through challenges, demonstrate RESPECT and INTEGRITY in their words and actions, are DEDICATED to their community, and display EMPATHY as global citizens while discovering and pursuing their full potential.  This PRIDE-driven culture enables all members of the school community to support the growth and development of students.  For more information, please visit www.chelmsfordschools.org.