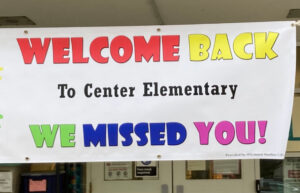 Welcome to the Center School. As a community we are very proud of our school. So many people are responsible for making it the warm and nurturing learning environment that it is. We have a talented, caring and dedicated teaching staff that is always working in the best interest of the students. Great support staff of instructional assistants, playground and lunch supervisors, cafeteria personnel, secretary, office clerks, nurse and custodians who give teachers and students support, while contributing to the smooth operation and cleanliness of our building.
A fantastic parent support group in the Center School PTO, of caring parents who are willing to work hard to provide the many extras we offer our children. Supportive parents who are deeply committed to their children's education at the school.
And lastly, the children who work so hard, are polite and courteous in the Center School tradition.
STRATEGIES FOR EDUCATIONAL IMPROVEMENT
Our School Improvement Plan reflects the following strategies we believe are critical to the success of our students.
Hold all students to high standards as established by the curriculum frameworks and a vision of 21stcentury skills.
Expect that effective curriculum, instruction and assessment are implemented in all classrooms with strategies for accessibility that support all learners.
Organize effective use and organization of time on learning.
Promote active forms of learning that engage the student in developing deep understand of concepts and skills.
Differentiate teaching strategies to reach students in a variety of ways.
Guide students in the development of physical, emotional and social health so that students can fulfill their own potential and be good citizens
Foster the integration of technology into instruction to make learning effective, engaging and interactive.
Help students develop the technology and information literacy skills needed to be lifelong learners for the 21stcentury.