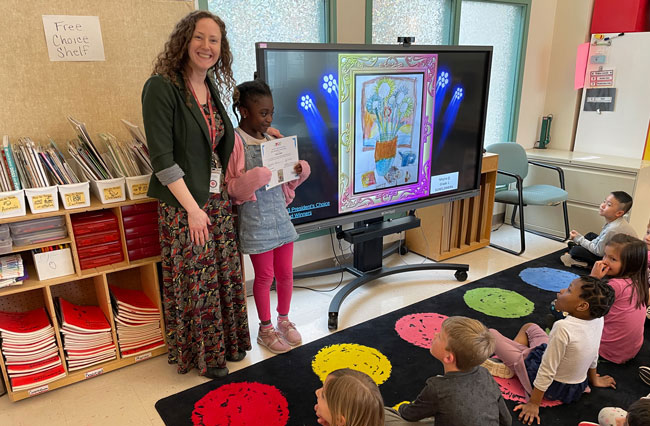 Chelmsford First Grader Nhyira Quao Wins MAEA Youth Art Month President's Choice Award
in Newsletters
Ms. Quao the third Chelmsford elementary student to earn the honor in three years
CHELMSFORD, MA (May 4, 2023) – Center Elementary School first-grader Nhyira Quao always looks forward to Tuesdays. That's when she has art class with teacher Beth Glennon at 2:15, the perfect end to a school day.
Nicknamed 'Shi Shi,' Ms. Quao's love for art is abundantly evident in her projects, of which the folks at the Massachusetts Art Educators Association (MAEA) have taken notice.
Ms. Quao was named the Grade 1 recipient of the MAEA Youth Art Month President's Choice Award, announced recently. Her painting, titled 'Sunflowers,' was one of 13 works of art to earn the award, which is presented to one student statewide in each grade K-12. She received a gift certificate for $25 to Blick Art Materials.
"It has been a delight watching Shi Shi's skills and confidence bloom over the past two years," said Ms. Glennon. "She is a thoughtful artist who intuitively adds personal touches on all of her creations. I look forward to being dazzled by her imagination in the future."
Ms. Quao is the third Chelmsford elementary school student to win the MAEA President's Choice Award from the MAEA in as many years. In 2021, Xavier Herrera, a fourth-grade student of Kelly Mazzone at the Harrington Elementary School, earned the honor with his drawing titled 'Metamorphosis.' Last year, Byam Elementary School kindergartner Jack Avalone was named the recipient.
The idea for Ms. Quao's painting came from a coloring book. "I just thought about it," she said. "I put supplies around it, a coloring book, watering can, pencils, paint and a coloring book about sunflowers."
Ms. Quao's honor is the latest this year for the Chelmsford Public Schools fine arts program.
Ms. Quao is the daughter of William and Benedicta Quao.
About Chelmsford Public Schools
The Chelmsford Public School District provides all students with multiple pathways to optimize their own potential for academic excellence, leadership, and social and emotional wellness. The mission of the Chelmsford Public Schools is to educate, engage, prepare, and empower well-rounded and knowledgeable learners to PERSEVERE through challenges, demonstrate RESPECT and INTEGRITY in their words and actions, are DEDICATED to their community, and display EMPATHY as global citizens while discovering and pursuing their full potential. This PRIDE-driven culture enables all members of the school community to support the growth and development of students. For more information, please visit www.chelmsfordschools.org.